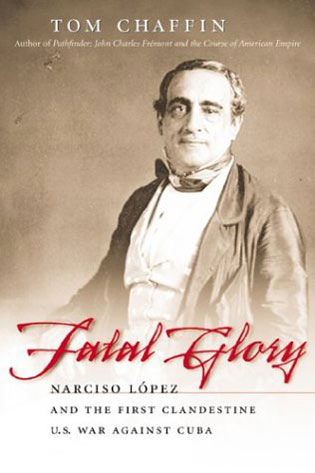 RELATED ARTICLE
"Abe Lincoln and Filibuster Fever"
New York Times
Jan. 11, 2011
link
FATAL GLORY
Narciso López and the First Clandestine U.S War against Cuba
Before Fatal Glory, Narciso Lopez's daring invasions of Cuba had remained one of the great lost sagas of American history. Wildly famous during the mid-nineteenth century as the leader of a filibuster, a clandestine army, Lopez led the first armed challenge to Spain's long dominion over Cuba. While U.S. historians have tended to view Lopez as an agent of pre-Civil War southern expansionism, Tom Chaffin reveals a broader, more complicated picture. Although many southerners did assist Lopez, the web of intrigue that sustained his conspiracy also included New York City, steamship magnates, penny press editors, Cuban industrialists, and northern Democratic urban bosses.
Drawn from archives in both the United States and Cuba and enlivened by first-person accounts and reports from federal "special agents" assigned to spy on Lopez, Fatal Glory holds appeal for both scholars and the general reader with an interest in Cuba, U.S. foreign policy, or the U.S. sectional crisis of the 1850s.
PRAISE & REVIEWS
"A masterful summation of a complex series of events . . . We finally have the definitive account of López's central achievement: fatal glory."
—Howard Jones, Civil War History
"Had López's mid-nineteenth-century misadventures been better chronicled in more recent times they might have given pause or provided lessons to modern-day plotters in their efforts to oust the present Cuban government. Chaffin seeks to correct the historical oversight in this meticulously documented volume."
—Don Bohning, Miami Herald
"Fatal Glory is an outstanding study of López's efforts to overthrow Spanish rule in Cuba between 1848 and 1851….Tom Chaffin has done an exemplary job of integrating various related topics into his narrative. It is clearly a labor of love….A model historical monograph."
—John H. Schroeder, Journal of American History
"Fatal Glory is that rare book of history with the sweep and pleasure of a novel. This little-known story of one of our Cuban misadventures serves as a dark-hued mirror to the present. Mr. Chaffin has written a nuanced and penetrating saga.."
—Andrei Codrescu, NPR commentator
"Chaffin's thoughtful, clearly written, and chronologically sensitive study illuminates the identities of the filibusters and their Cuban and American collaborators, how expeditions were financed and organized, the filibusters' legal difficulties, their military strategy, and what actually occurred during the expeditions."
—Robert E. May, Register of the Kentucky Historical Society

"With considerable verve, Chaffin tells the strange and illuminating story of López, a Venezuelan-born Cuban who in the mid-nineteenth century advocated the U.S. annexation of Cuba. . .  Chaffin's book is a timely and powerful reminder that relations between the United States and Cuba were complex and tortured long before the Cold War."
–Esther Allen, in Lingua Franca, one of five scholars of Cuba asked to name the "best recent breakthrough" books on the island's history.
"Fatal Glory makes an important contribution too our understanding of filibustering and its relationship to American political culture in the middle of the nineteenth century."
—James M. McPherson, Princeton University
"Well-researched and clearly written account of a vital period of Cuba-U.S. relations…Obligatory reading for students and scholars of the Cuba-U.S. relationship."
—Louis A Pérez, Jr., University of North Carolina, Chapel Hill
"By far the best account of an important, but underappreciated, episode on the road toward the American Civil War."
—William W. Freehling, University of Kentucky."
"Fatal Glory tells an exciting story in an engaging style that is enhanced by the author's through grasp of the subject matter and the historical period. Chaffin successfully undermines the generally accepted notion that Narciso López was merely a pawn for southern planters interested in expanding slavery."
–Gerald E. Poyo, St. Mary's University